White-glove support for every aspect of your technology experience.
All CNS services are FREE to clients. You can leverage our relentless advocacy, industry-leading tools, and dedicated expertise at no additional charge to you.
We work with your team to navigate Connectivity, Cloud/Iaas, UCaaS, CCaaS, SD-WAN, Security, COLO, Mobility, Managed Services, and many more, focusing on the areas most vital to your success.
We offer a suite of expert services to aid your success through technology projects.
Next-gen IT decision-
making platform
Whether trying to save money or realign your budget to afford your next project, CNS is dedicated to creating tangible savings and returns for our clients.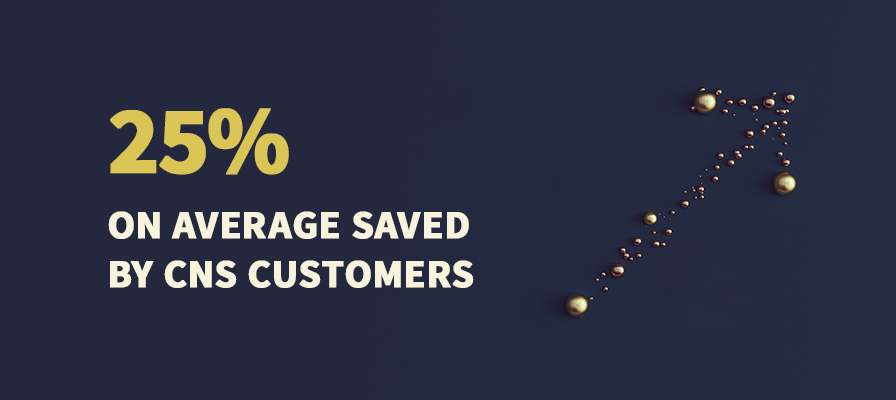 With CNS on your side, you can make informed decisions and access cutting-edge solutions for every area of your business.
Our providers range from boutique to enterprise, and each provides an elite suite of solutions for meeting our clients' unique needs. With an elite and expansive variety of solutions and providers at our disposal, we are dedicated to architecting the best solutions for you, at the best rates and terms.
We are one of the largest Residential Property Management Firms in New York City. After researching several companies, we transitioned our telephone service for client properties to Crosstar Network Solutions (CNS). They have been able to consolidate the billing process which allowed us to better manage our telephone accounts, lowered our cost on average by 30% and provide a single point of contact to address the few issues that we have encountered effectively and efficiently. We are most pleased to be with a company that cares about our business, our clients and our success."
I've been working with Eric and the CrosStar (CNS) team for almost two decades. Throughout that time, they have always provided us with solutions that made sense. Their customer support is always there when you need them, no matter what. CrosStar (CNS) has become an invaluable member of our team."
Thrive is proud of its partnership with CNS. Their diverse and strong understanding of technology makes them an asset to any organization navigating through Digital Transformation. Their solutions are highly reliable and bring a high level of expertise in system platforms, data network solutions, cloud managed services, and managed security all while providing adherence to many industries' compliance requirements, standards, and best practices."
I have had the pleasure of working with the team at CrosStar (CNS) since 2010. They are a fantastic partner with NHC and provide exceptional service to our mutual customers. CrosStar (CNS) services some of the largest customers across the country with fantastic ongoing support and account management. They bring true value from the initial sales process in analyzing the customers current services, designing a solution that fits their business needs, working with them and their carriers through the complete implementation process, and then providing ongoing account management for their clients. I have truly enjoyed working with the team at CrosStar (CNS)!"
Cliff and the CrosStar (CNS) team have been a tremendous partner for us, always making sure we are aware of the latest Telecommunications technologies and negotiating competitive pricing in the industry. Their attention to detail and responsiveness is unmatched."
Eric/The CrosStar (CNS) Team and I have been doing business in the retail vertical for over 15+ years now. Having managed small IT/Telecomm Teams, The Value that CrosStar (CNS) provides is unparalleled. They are always aware of the latest-and-greatest Technologies, and savvy veterans in the IT space. They take on a lot of work on our behalf (as we don't have the time) with things like: Spend Analysis, RFPs, Vendor Selection, Staff Augmentation, Emerging Technologies/Roundtables/Whiteboard Sessions, Cost Cutting initiatives/Savings Confirmations/Contract Reviews, Overall we are delighted with our partnership, and will continue to do business with them for the foreseeable future."
What separates Crosstar (CNS) is their unwavering passion and commitment to improving customer experiences. They invest and deploy overlay operations for their clients including engineering, project managers, account managers, and back-office support. They advocate strongly and have the prowess to deliver results where others simply don't. Spectrotel is proud of our 15-year partnership with CNS."
Access elite technology solutions with CNS